We pick your broken clock up from home…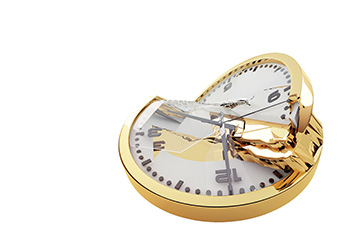 Grandfather Clock Repair Specialists:
At The Clock Man, we have over 75 years of combined clock repair experience. Many of the clocks in for repair at our shop are grandfather clocks. Grandfather clocks require an extra level of expertise due to the complex nature of the mechanism. Many grandfather clocks have various settings like multiple chimes and automatic night time silent, all of which necessitate an intimate knowledge of the movement in order to repair the clock properly. Antique grandfather clocks are even more difficult, mainly because those types of mechanisms are fewer and farther between. This makes gaining valuable experience on these rare clocks hard to come by.
Our Facility:
We have a large facility in Bend, Oregon, designed to optimize our clock repair needs. Our repair experts are well equipped with the proper tools and resources to professionally overhaul the grandfather clock. Complete disassembly of the clock mechanism is required for qualified repair.
At right is an image of a clock mechanism that's in the middle of being re-bushed and polished. We have specially designed racks that allow us to set-up and test your grandfather clock after it has been repaired to make sure it is operating correctly. These racks allow us to leave your grandfather clock case in your home while we bring the weights, pendulum, and mechanism into the shop for repair. This way, you don't have an empty spot where your favorite grandfather clock used to be! You can either bring your grandfather clock mechanism to us or we can set up a house call where we come and pick your grandfather clock up ourselves. We bring the grandfather clock back to you after it has been repaired and set it up for you in your home. Give us a ring to speak to us about repairing your grandfather clock any time!
Authorized Service Center for:
Grandfather Clock Brands:
We repair all makes and models of grandfather clocks. We are the authorized service center for Howard Miller, Ridgeway, and Hermle grandfather clocks. If you have a warranty issue we will deal with the manufacturer directly on your behalf. If you're clock is outside the warranty period, rest assured your grandfather clock is in trusted hands.
We service and repair antique brands like Seth Thomas, Colonial, Waterbury, New Haven, Herschede, Sessions, Ingraham, Waltham, Kienenger, Jauck, Ithaca, Junghans, Smiths, Becker, Ansonia, and many more. If you don't see your brand on this list or can't locate your clock brand, don't worry! There have been many clock companies throughout history and not all clocks are easy to identify right off the bat. Regardless of you brand, we can repair your grandfather clock! Give us a call to get started on repairing your grandfather clock today! @ (541)588-0836
Brands We Service:
Howard Miller, Ridgeway, Bulova, Hermle, Seth Thomas, Colonial, Sligh, Empire, Herschede, Ingraham, Waterbury, Ansonia, Seiko, Americana, and many more! We service every type, make, and model of clock! Call for more details!
Rolex, Breitling, Tudor, Bulova, Seiko, Piaget, Tag-Heuer, Hamilton, Accutron, and many more!
Authorized Service Center and Retailer:
We are the authorized service center and retailers for the following manufacturers:
Howard Miller, Ridgeway, Bulova, Hermle, Comitti of London, Rhythm Musical Clocks, Seiko, and more! Call with any questions. (541)588-0836